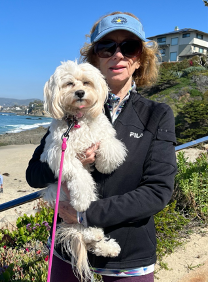 Noreen Sturges, who lost her 15-year-old canine companion Papillon last year, found a replacement a few months ago in Lulu, a female Maltese. "Lulu was rather matted, had a hacking cough and needed care and lots of love," Noreen said.
Lulu had belonged to a family that was no longer able to provide her with the care and attention she needed. When Lulu was brought to Noreen's home, "it was love at first sight," she said.
Noreen hired a groomer to attend to Lulu's matted hair. After the grooming, Noreen took Lulu to Monarch Veterinary Hospital in Laguna Niguel not far from her home.
Dr. Kelly Alcala examined her and found some serious dental issues that would require surgery and the extraction of some teeth. Lulu also had a hacking cough – "not like she would have had with a cold," Noreen said. Dr. Alcala told her that she thought decay from the dog's teeth was getting into her digestive system and probably causing the cough, Noreen said.
The doctor suggested that Noreen apply for a Boydston Grant to help pay for Lulu's treatment and surgery. A grant of $500 was approved and Dr. Alacala did the surgery. The dog is now thriving, Noreen said, and the hacking cough is gone.
Lulu is eating her new diet voraciously. "And she's a love!" Noreen said. "Everything's good now." The dog, she said, "is running around – up and down the stairs and all over the place.
"I didn't think I could ever love a dog as much as my Papillon, "but I just love Lulu."
She added that she is grateful for the help provided by her Boydston grant and the matching sum from Monarch Hospital, as well as for the work of Dr. Alcala. "I just love her, too," she said.
Noreen said that she and Lulu "are having a lovely time together. She is quite a companion."