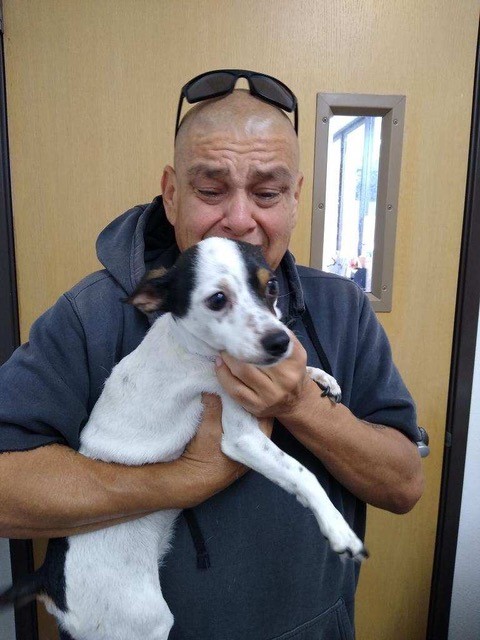 "I fell into a deep depression, coming home and seeing her not eating and getting weaker by the day," Alex said.
"Oreo was urinating a lot," his wife Rosalinda said.  "I told Alex that I think she has a bladder infection or some other kind of infection.  We took her to the animal hospital and the veterinarian told us she had stones in her bladder.  "The surgery was really expensive and we just didn't have any money."
"Oreo was getting sicker and sicker and we just couldn't see her like that," Alex said.  The couple decided to take the dog to the SPCA, hoping that the organization might be able to take care of her surgery and then find her a new home.
Alex, terribly depressed at the thought of giving up his dog, took a binder he had kept that had all Oreo's health and other records.  "The young lady there [at SPCA] told me, 'Wow, she's a well-loved dog!  I've never seen a binder like this.'
"I said, 'Oh, I love her.' I was crying when I handed her over." Alex said.  "I said I wanted to surrender the binder with Oreo.  I thought the right thing to do was to surrender her so they could help her."
Depressed and saddened, Alex and Rosalinda returned to their home in Hawthorne.  The next day, the SPCA called them and suggested that they call the Animal Hospital of South Bay and ask about Angel Fund, Rosalinda said.
"They said Angel Fund could help us," she said.  "I talked to a lady at the hospital and she said, 'OK, let me find out a few things.' She called back later and said Oreo was scheduled for surgery that day.  I said, 'Wait, she's at the SPCA.'  She said, 'No, we picked her up.  And Angel Fund is going to help you.'  That felt really good."
When Alex returned home, Rosalinda told him that Oreo's surgery had been scheduled and the hospital wanted to know if he would like to see her before the operation.
"I said, yeah! It was the happiest day of my life. It was better than anything in the world."
At the hospital the reunion of man and dog was an emotional moment.  "She jumped out of the lady's arms and into my arms and she's kissing me and licking me," Alex said. "It was amazing, it was amazing!  I'll never forget how she looked at me and she was crying like a baby."  So was Alex.
"Angel Fund made a depressed person very, very happy," Alex said. "If they didn't do what they did, I told Rosalinda, I needed to check myself into the mental hospital and she asked why.  I said, 'Because I can't live without Oreo.  If she goes, I'm going to go.  I can't live without her.'  So Angel Fund actually saved two lives.
"I told my therapist that I was thinking about killing myself.  I really, really did.  I was very, very depressed without her."
Alex has a learning disability and has been unable to read or write.  He has been working hard to change that and now can read at a third-grade level.  "My spelling is really bad but I can read signs and I am learning," he said.
He has worked when family members have helped him find jobs. In one instance, he was fired from a job his brother had helped him find.  His employer gave him written instructions and told him to read them so he would know what to do.  When Alex said he couldn't read the instructions, he was fired.
He is also diabetic.  He credits his dog with saving his life when he fell into a diabetic coma in 2016.  Oreo bit him hard enough to wake him up but not break his skin, he said.
"I was on the floor and I went into the kitchen to grab something to eat – a piece of candy or something.   She was crying and pulling on my shirt.  she knew that I was sick.  she started nibbling on my ear."
He finally reached up and found a donut and that helped get him back on track, he said.
He and Rosalinda live with his son, although they are now divorced.  The son and Rosalinda are his caretakers, Alex said.  Alex has his own bedroom and Rosalinda shares a room with his granddaughter.  "We get along better than when we were married," he said.
Oreo – a Chihuahua-Jack Russel mix – is doing very well, he said.  "She's terrific – running around, getting a little chubby. But she's great."  The dog is now six years old.