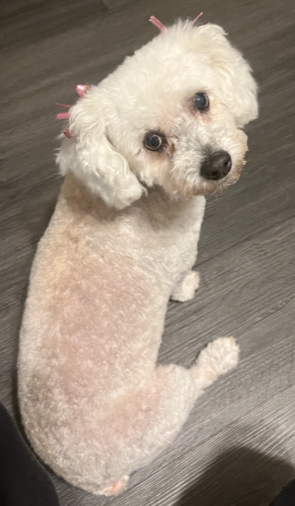 For more information about the Animal Health Foundation's Angel Fund CLICK HERE
Yelena and her mother have been rescuing dogs and cats they find on the streets near their Reseda home for years, often finding them homes, if they cannot locate their owners.
That's how they found Mila nearly two years ago. A Poddle mix, she "was running around and she was in horrible condition," said Yelena, who asked that Pulse not use her full name. "She clearly had not been eating well and she was covered with fleas. I had to give her three baths, one after the other.
"We tried to find her owner. She did not have a chip. We posted a description of her and some people contacted us and said they thought she was their dog. But none of them sent us a picture of her and we ended up keeping her. I think we gave her a really good life."
A few months ago, Yelena noticed that Mila "was straining to pee. I checked her and there was no blood. But I took her to the vet, who asked if I had seen any blood and if Mila was eating. The vet prescribed antibiotics, thinking the problem might be an infection.
"That seemed to help her a little bit. But then I took her to the dog park and every five seconds she was squatting down and acting like she was going to pee. And I decided I would take her either to the emergency clinic or the vet. Then I looked again and I finally saw some blood."
Yelena called VCA McClave Animal Hospital not far from her home. "I told them exactly what was going on. They said this was an emergency, since there was blood, and to bring her in. Dr. Carina Cortez told me that they would prefer to do x-rays and a few other procedures," Yelena said.
"I was thinking, oh this poor dog! When Dr. [Nada] Khalaf [co-medical director at McClave] called me after she saw the dog, she told me: 'We can't keep giving her antibiotics – we would just be going in circles.'"
Dr. Khalaf said that she saw the stone shadow on an ultrasound. She told Yelena that she suspected stones but needed radiographs to confirm they were there. When the x-rays were taken, they showed "two enormous stones in her tiny bladder," Yelena said.
"I said that I wanted to help the dog, but I really couldn't financially, and I asked if there was any kind of financial plan I could do. And Dr. Khalaf said she could refer me to Angel Fund. I had never heard of Angel Fund. She said: 'I don't know how much they can help you' but that she would call and we would see.
"And I was thinking, 'Oh my god, maybe they would help!' Dr. Khalaf called back and said Angel Fund would help. I was thinking maybe $100 or $300. But the doctor said they would do more – $1,000 – and the hospital also would help, matching the grant, and that they would help me open a CareCredit account.
Dr. Cortez performed the surgery to remove the stones.
"I was really so grateful," Yelena said. "I am just very, very thankful." She also expressed gratitude to Dr. Khalaf: "She's the one who helped set everything up."
She also said that she would "rate Angel Fund at 200 on a scale of 100." The day she learned that she was getting the grant "was a very emotional day for me."
Mila is now doing well, she said. "After the surgery we had some antibiotics and pain medication. She was told to keep Mila from running and jumping for two weeks but the dog wanted to do just that. She now urinates normally. "She's 100 percent different from the way she was in the dog park.
"Mila is a very special dog."
Some five years ago, Linda Lockwood found a stray cat outside her home in Vancouver, British Columbia.  "She was nobody's cat.  I contacted shelters and looked around the neighborhood.  Nobody claimed her.  The shelter asked if I could keep her.  I had another cat but I thought I could take care of two.  So I said, OK, fine."
Linda named her new charge Mango. She soon discovered that the new family member had some chronic health problems, particularly constipation.  "She had to get enemas once or twice a month," she said.
Linda came to Southern California to go to school in June, 2014, with Mango in tow on the airplane.  (Her other cat had died.)  She enrolled at Pierce College in Winnetka, intending to become a veterinary technician because of her love of animals. But she ran into some trouble with a chemistry course and decided to change her major to computer science.  She did well – all A's and one B –but decided to enroll at California Institute of the Arts to pursue her first love, music.  She will complete course work this spring on a master of fine arts degree.  Earlier, she had earned a bachelor's degree of music in jazz studies from Vancouver Island University in British Columbia.
In November of 2015, Mango's chronic constipation became a very real problem.  "She would poop everywhere – on my bed, on the floor," Linda said.  "Sometimes, she'd try to poop and she couldn't, so she'd cry. She was losing weight. She was extremely bloated because her colon was impacted."  Linda had little money to spend but she took Mango to Happy Pets Veterinary Center in Valencia.
"They took x-rays and they told me how severe the problem was.  I just didn't know what I was going to do," Linda said. "Eventually, Dr. [Jane] Kelly told me, Mango was going to require surgery to remove almost the entire colon. She said she would have to refer me to a surgery specialist and that could cost more than $5,000 – and I just didn't have that kind of money. But Dr. Kelly said that Mango's life is at risk.  If you are unable to afford it, she'll have to be put down."
Dr. Kelly put Mango on intravenous fluids, multiple enemas, laxatives and pain medication for three days to stabilize her condition and suggested that Linda apply to Angel Fund for help. She did and received a grant of $275, a sum matched by Happy Pets.
But Mango still needed surgery.  "I found myself looking on the ground for coins, when I walked on campus," Linda said.  "It only cost $1.20 to get rice and beans at my school, so that's what I was eating." Dr. Kelly suggested going to a low-cost clinic.
Linda talked to several clinics before selecting one. She raised money on a website, the largest contribution coming from a friend in Canada.  Mango got her surgery but the stitches holding the incision together quickly came out. "It was a gruesome thing. Her intestines came out," Linda said.  "Everybody thought she was going to die.  I took her back and they sewed her up again – and the stitches came out again."
This time, Linda found another veterinarian (on Christmas Eve), who repaired the damage and ordered Mango confined to a cage for a month as she healed. "After that month she was cage free and was as good as new," Linda said.  "Today, she's doing very well.  I give her everything that I can."
And, she added, "I can't believe I went through all of that.  I had to get extensions on all my essays and I had to leave classes early to pick Mango up."
Linda believes that Angel Fund played a major role in saving her cat's life. "Without them, I don't know if Mango would have been in condition for what came next. The time she was in the hospital [at Happy Pets] bought some time for me to make plans for what to do.  I'm very grateful for what Angel Fund did for Mango."
She also praised Dr. Kelly: "She is very compassionate and very caring.  I know she did it for Mango."
And, she said, "It's amazing how people, even if they don't know you, they love animals.  I'm very grateful for what everyone has done for Mango."